Commercial Lighting & Electrical Repair Services in Madison, TN
---
When running a business, few resources matter more than electricity.
Without a reliable power supply, you cannot communicate, answer your phones, provide customer support or even keep your lights on. Rains Electric Company offers the wiring, lighting and electrical repair services you need to do business effectively under any circumstances. As a commercial electrician operating out of Madison, TN, we offer companies throughout the Nashville area with reliable electrical equipment for all their activities, keeping business running smoothly at all times.
As an electrical contractor with more than 30 years of experience and access to advanced technologies, our commercial electrical services provide many different benefits for your company, including:
Improved Control - With an electrical panel upgrade, we give you more precise control over the power supply throughout your building. This makes it easier to monitor electricity use and respond effectively in an emergency. We can also upgrade your lighting control systems so that you can set the brightness of your lights more precisely.
Increased Sustainability - By providing a lighting retrofit, the Rains Electric Company team offers your business better lighting while reducing the amount of energy you use to keep those lights on. Not only is this better for the environment, but it will lower your electric bill.
Superior Security - Through audiovisual wiring, we allow you to set up camera systems and other forms of monitoring that will keep your company secure under all circumstances.
Rains Electric Company strives to benefit both our clients and the broader community. By providing effective electrical services that also improve safety and sustainability, we help make the Madison area a pleasant place to live and work.
In the event of a blackout, power surge or other electrical emergencies, Rains Electric Company is available 24/7 to provide comprehensive electrical repairs.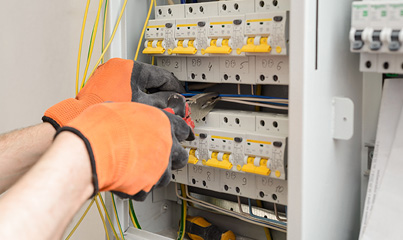 As soon as you request our assistance, we will travel to your location and inspect your wiring. Once we are sure the area is safe, we get to work getting the power back on. We also trace the problem to its source, figuring out why your electrical equipment failed and how we can prevent similar failures in the future. In this way, we improve electrical safety and reliability for both the short and long runs, helping your business stay secure and efficient.
---
For more information on commercial lighting and electrical repair services from Rains Electric Company or to request a quote, contact us today!