Industrial Lighting, Wiring and Repair for Businesses in the Madison, TN Area
---
From saving money to raising productivity and improving environmental sustainability, industrial businesses strive for a range of electric goals.
Rains Electric Company offers a simple and affordable way to further all these objectives. Based in Madison, we offer electrical panel upgrades, electrical repair solutions, emergency services and countless other enhancements for industrial businesses in the area. With more than 30 years of experience as an industrial electrician, we know exactly how to help your company's electrical systems work safely, efficiently and sustainably.
Rains Electric Company is committed to creating value for our customers, which is why we provide a full range of industrial electric services, including:
Lighting Retrofit Services - By installing more advanced lighting equipment and enhancing its wiring, we can reduce the amount of energy you use to illuminate your production lines. This improves sustainability, lowers your bills and reduces the risk of electrical overload that so many industrial businesses face. We can also upgrade your lighting control systems, allowing you to set interior lighting more precisely.
Electrical Panel Upgrades - An electrical panel upgrade enhances your ability to monitor and control the electrical supply in your facilities. With this enhancement, you can better balance energy use and respond more effectively during emergencies.
Emergency Services - If you suffer a burnout or other electrical issue, our team is available 24 hours a day, 7 days a week to fix the problem and restore your equipment. Our goal is to keep you safe from all harm while getting your power back on as quickly as possible.
Rains Electric Company is widely renowned for the quality of our electrical services, having served the Metro Transit Association, Nissan and countless other organizations with complex power requirements. No matter how much energy you need, we will be able to keep your production lines running smoothly.
Given the many risky investments that industrial businesses must make on a regular basis, you can hardly afford to pay for electrical upgrades and repairs if you aren't sure what the results will be.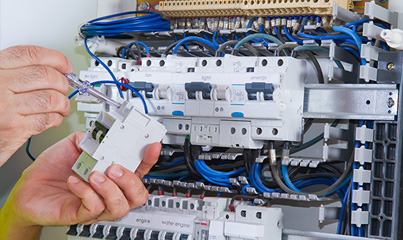 For this reason, our electrical contractor team offers a warranty of between one and two years, depending on the equipment. If you need additional repairs during that time, we will provide them for free of charge, ensuring a reliable power supply for your industrial business.
---
Don't take a chance on industrial power. To request a quote for our industrial services, contact Rains Electric Company today.