Top-Rated Lighting Control Systems Near Brentwood TN
Over the years, light systems for your business have changed. Technology is getting better which gives you many reasons why you should consider taking advantage of a new lighting control system. The continued use of an outdated system will waste energy and can be unsafe for your company.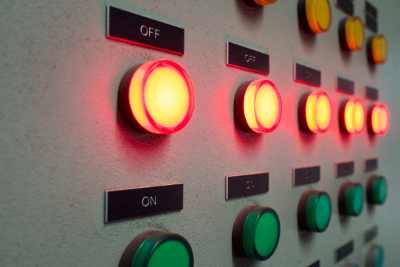 At Rains Electric Company we offer all different kinds of light systems including: lighting design, LED conversions, and upgraded control systems to businesses in the Brentwood area. With our 30 years of electrical experience and our professional team of electricians, we are the recommended and trusted company to take care of your lights in the safest and most sustainable way possible.
---
Offering Effective Lighting Control Systems for Commercial & Industrial Companies
Lighting Services for Your Business.
Lighting Retrofits

At Rains Electric Company, we offer many options to improve the brightness of your space. This ensures that energy is efficiently used and sustainable for the environment. We specifically focus on LED retrofits which will minimize heat waste and coverts all energy into light! LED retrofits reduce the amount of power needed to lighting.

Light System Upgrades

When you upgrade your lighting control systems it will allow you to set the brightness at the exact level you want for each section of your business. This will help lower the energy waste and improve the safety of those in your building.

Lighting Design

When building a new facility we are able to craft a perfect design that is energy efficient. We wire a new lighting system that gives you as much light as possible with the least amount of energy wasted. We offer remodeling your existing light as well if you are looking for a new lighting system for your company.
Our team offers a vast variety of electrical service to Nashville and the surrounding area. We are able to provide you with service and keep your lights on no matter what happens! With our 24/7 emergency services, we are able to fix your electrical needs as soon as possible.
Lighting Portfolio: Rains Electric Company
Look at our gallery to see more of our work chevron_right
---
The Importance of Professional Lighting Systems
Most business owners understand the benefits of saving energy and improving the safety of the people who are in the building but often overlook what impact it actually has for your company. It's important to keep this planet as healthy as possible. When energy use is minimized, you be to sure to see lower bills - which is great! You'll also send a message to potential customers that you are committed to sustaining your company and keeping the planet preserved from harm. When you are a more environmentally-conscious company, consumers are more willing to work with you.
The safety of your employees is also very important. When you improve your lighting systems, it will give your building the best lighting possible and show your employees that you care about their safety. This keeps them happy, allows them to continue to work hard, and keeps your business running smoothly!
---
Consider Rain Electric Company for your light and power needs. We provide you with a free quote and will answer any questions you may have - contact us today!